NEWSLETTER 29 -September 21st 2021
Acting Principal's Reflection
Our Reconciliation Candidates will participate in their First Reconciliation at Our Lady Of Lourdes Church tonight. This is a very special time for these students on this part of their faith journey. Reconciliation is about forgiveness. The candidates begin to understand that God loves them unconditionally and will always forgive them, even if others do not. Of course, allowing yourself to be forgiven usually relies on the fact that you are genuinely sorry for your wrongdoing. It also helps to use this experience as a lesson for the future and reflect on strategies that may prevent the same thing from happening again.
We were very lucky to have Fr. Steven visit St Patrick's today to celebrate Mass with us. Our Mass was focussed on Our Lady of Mercy with this feast day being held on Friday 24 September. It was lovely to celebrate the Mass as a whole school and we thank Fr. Steven and Mrs. Halley for organising this wonderful opportunity.
It was fantastic watching our basketball teams playing in the tournament on the weekend. All of our players from St Patrick's seemed to enjoy the opportunity to play against other primary school teams from across the North West. A big thank you must go to Mrs. Meech and Mrs. Harris for their organisation and to all the other school community members that coached, managed or supported the teams. I know that the students appreciate your efforts.
Our Year 6 students enjoyed an extremely eventful camp last week (Mrs. Harris certainly knows how to put together a jam-packed schedule). We were very lucky to see some snow on Mt Wellington and the cloud cover held off to allow for some magnificent views. We spent a whole day at Port Arthur taking in the extensive history and we were lucky enough to see a whale in the bay. Our final day was spent at ZooDoo in Richmond with our final stop of the camp at the Campbell Town lolly shop. Thank you to Mrs. Harris for working so hard to ensure everything ran smoothly. Thank you also to Mrs. Kingshott, Mr. O'Brien & Mrs. Tueon for attending the camp as staff members and looking after our Year 6s with great care. Finally, thank you to the Year 6s for representing St Patrick's so well when we were out in the community and for showing great resilience and care for one another. Your WEST and MERCY values were on full show.
Thank you to all members of our school community for your support over the last two terms. It has been a very rewarding experience stepping into the role of Acting Principal and I am excited to continue to work with the community of St Patrick's as Deputy Principal moving forward. I hope that all of our students have a wonderful break and can refresh and reset ready for the final term of the year with Mr. Linhart back steering the ship.
Kind regards
Kurt Atkins
Acting Principal
Upcoming Events
September
Mon 20th - Morning Assembly - All Welcome
Wed 22nd - P&F Footy Feast Day (pre-orders only- orders closed Friday 17th)
Thurs 23rd - Footy Colours Day (Kinder Only)
Fri 24th - Footy Colours Day (Prep-Yr 6)
October
Mon 11th - Term 4 Commences

Morning Assembly - All Welcome
Welcome Back Mr. Linhart

Wed 20th - Year 6 Taster - LHS (10.30-1.00pm)
Staff News
Mrs. Jak was away Monday, Miss Brown taught Prep.
Aunty Dawn Visit
In week 8, students from Year 6 had a wonderful opportunity to listen, learn and create artworks from Aboriginal Elder Aunty Dawn. Aunty Dawn is an Elder and artist who participates in school visits and shares her personal story with the students and helps to broaden students understanding, empathy and awareness. Aunty Dawn also provides a message to students about navigating the challenges that adolescents are faced with and the importance of making good, positive choices for their future. Students were then tasked with creating a painting that reflects their life and their story. The Year 6 students conducted themselves very well during Aunty Dawns visit and should be proud of their work.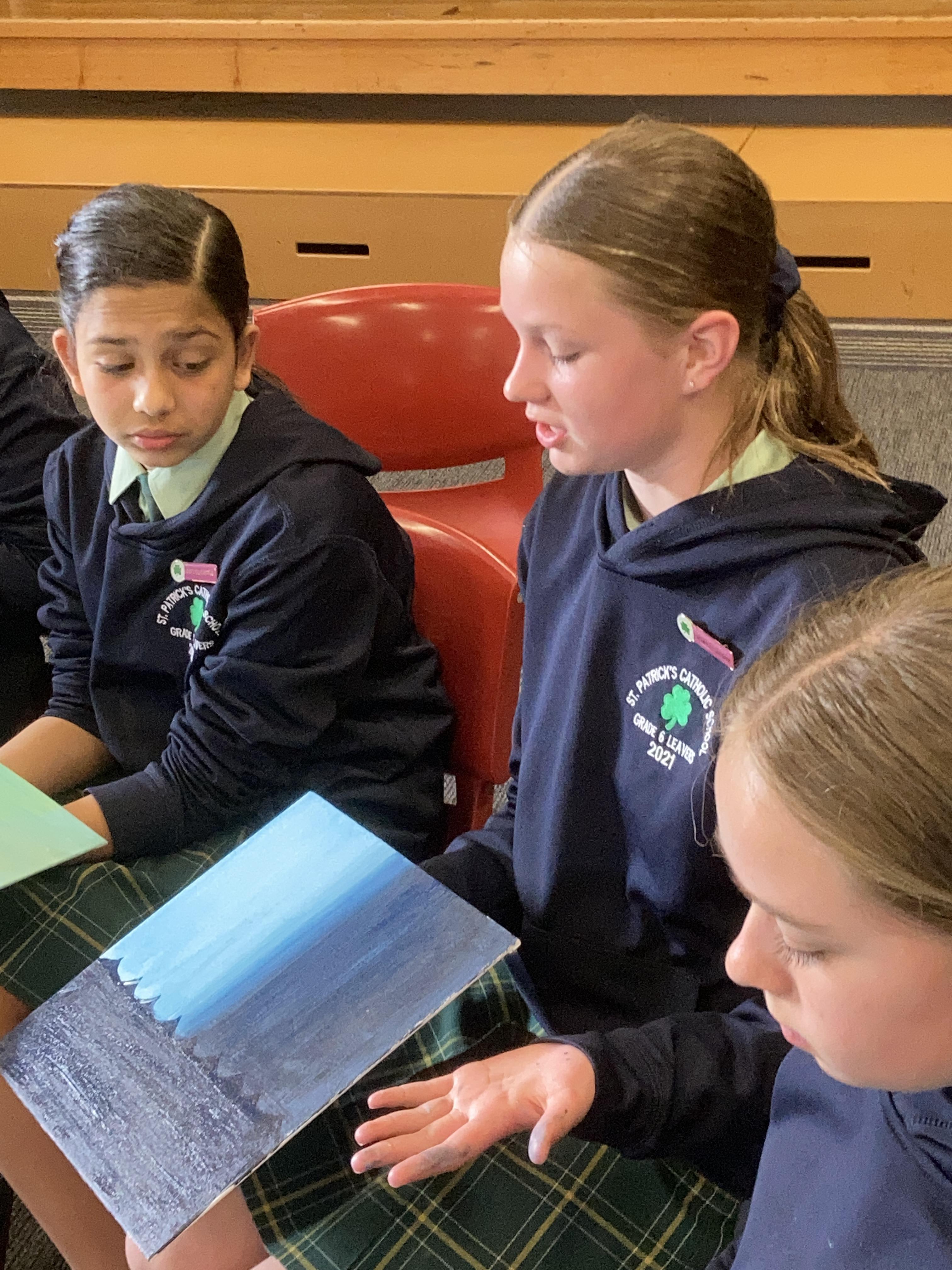 Prev
Showing images
1 - 8
of 28
Next
Year 6 Camp - Hobart & Port Arthur
Our Year 6 class had a wonderful time at camp last week. Here is a snippet of what they got up to. Thank you to Mrs. Kingshott, Mr. O'Brien, Mrs. Tueon and Mr. Atkins who accompanied the Year 6 class, we had some very tired students and teachers who arrived home after a jammed packed 4 days of sightseeing and activities on Thursday afternoon.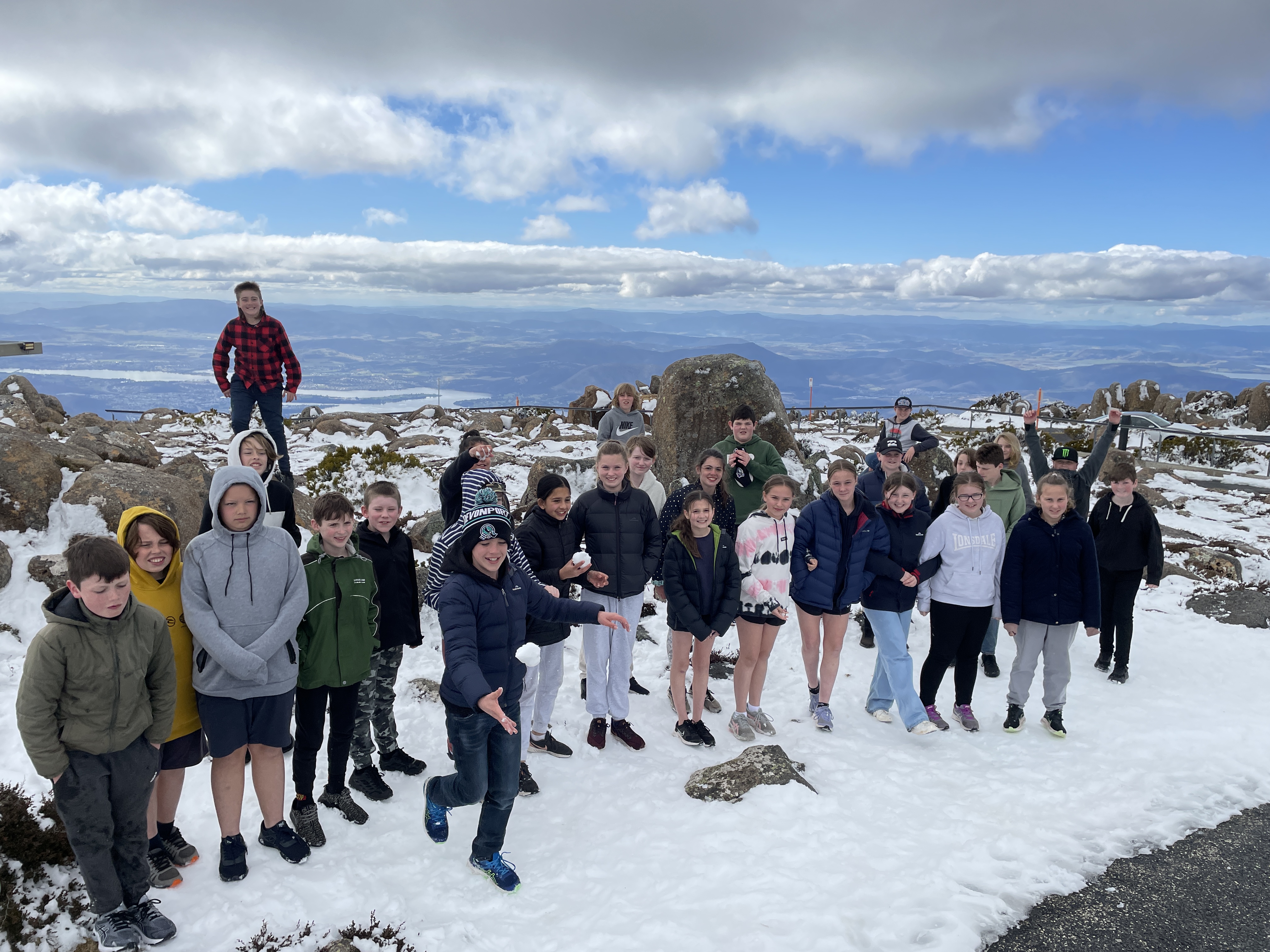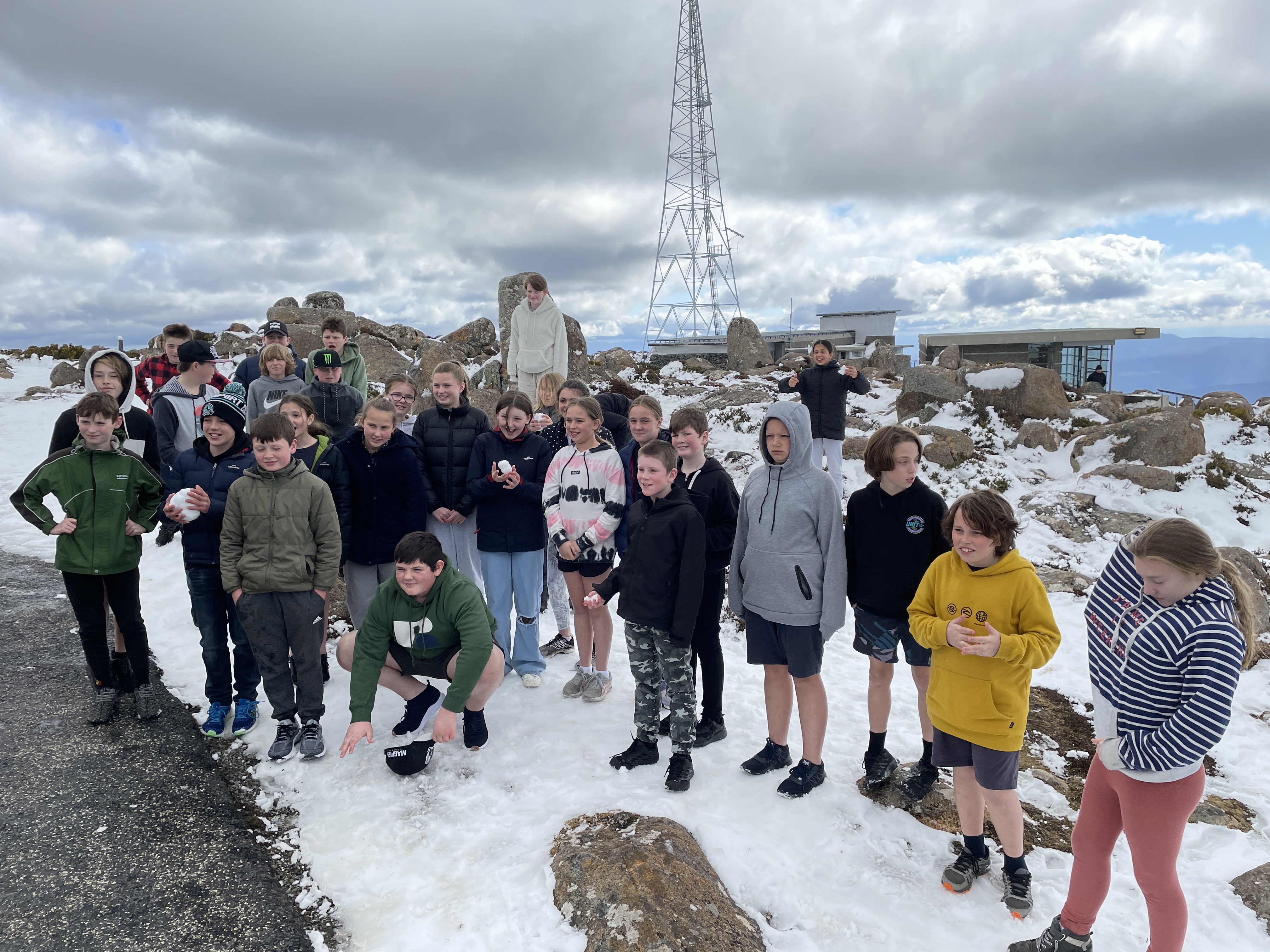 Prev
Showing images
1 - 8
of 27
Next
Planning for a Generous Donation
A former student, Mr. Ron Clarke, who passed away recently very kindly donated money to St Patrick's Catholic School as part of his estate. Mr. Clarke was a keen gardener and enjoyed sport and the outdoors. His daughters visited the school to present the donation. We are keen for everyone to be involved in giving ideas to use this contribution to benefit our school and we would like to invite Mr. Clarke's family back to the school in the future to discuss and implement an initiative.
If you have any ideas please draw or write the details and forward them to the school office, Mrs. Badcock or Mr. Atkins and we will display them above the photocopier at the entrance to the school.
Prep is getting ready for the AFL Grand final. Best wishes to the Demons and Bulldog fans.
Devonport Basketball Primary School Tournament
On Saturday, 18th and Sunday, 19th September, St Patrick's were represented at the Devonport Primary Schools Basketball Tournament with six teams playing across Ulverstone, Devonport and East Devonport.
All teams played their best and our 3/4 Girls and 5/6 Girls were triumphant in the C Grade division. The 1/2 Girls team finished runner-up and our boys' teams had mixed success over the weekend. Our students played with great enthusiasm and sportsmanship, with many team members trying basketball for the first time.
We would like to thank our coaches, managers and umpires, as well as the parents who assisted in completing bench and canteen duties. Our participation is not possible without your support. The students had a great weekend and it was wonderful to see such great team spirit and a "have a go" attitude.
Religious Education News
On the 24th of September, we celebrate the feast of Our Lady of Mercy, which is the feast day for the Sisters of Mercy. In the spirit of the Sisters of Mercy who helped the poor and homeless, as well as in the education of children, please bring along your small change and coins and these will be added to the class love hearts which will grow and grow with more and more coins. Your children may like to do some 'jobs around the house' for coins or go without a treat and put that money towards this. All money raised will go to the St Vincent de Paul appeal for toiletries and pet food for those in need. You may also want to contribute any new toiletries or pet food (maybe pick up a few extra items in your next shopping trip) into the baskets at the front office. Toiletries may include: toothbrushes, toothpaste, shampoo, conditioner, comb, brush, floss, mouthwash, soap, body lotion, shaving gel, razor, deodorant, lip balm, face cloth, bandaids, hand sanitizer, tissues, nail clippers, nail files, hair ties, wet wipes, face masks, feminine hygiene products).
We will be adding to the love hearts and collecting items all of Week 10. Thank you so much in anticipation.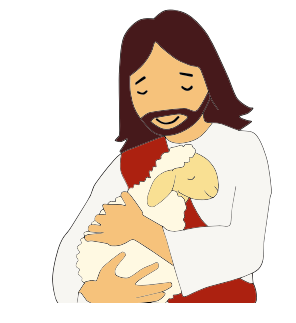 The Sacrament of Reconciliation

The Mersey Leven Parish is celebrating the Sacrament of Reconciliation this evening. We remember the children in our Parish, and particularly those in our school community, who will be receiving this sacrament. They have been preparing with their families for this sacrament over the last few months. The Sacrament of Reconciliation is a special sacrament showing God's great and unconditional love for us.
We remember and congratulate these students at St Patrick's Catholic School - Zita Omogbaimusa, Zara Omogbaimusa, Harper Clark, Jed Atkins, James Sullivan, Lulu Meech, Lucy Chapman, Violet Watkins
The story of the Good Shepherd shows us how much the shepherd cares for all his sheep, and if one strays or gets lost, he will search and search for it until he finds it. When he finds it, he gently picks it up and carries it safely back.

This story reminds us of how much God loves each and every one of us, always looking out for us, finding us when we stray or lose our way and forgiving us and gently guiding us with his loving ways.
Mini Vinnies News
Late last term, we had a PJ day raising money for St Vincent de Paul. Recently, we presented Christine from our local Vinnies store with our money we raised - a total of $239.20. Christine was very appreciative of the school's support for those less fortunate than ourselves. Thank you again to everyone who contributed to that day.
Mini Vinnies have organised the Change for Good - Watch Our Love Grow appeal happening this week. All money and items collected will be taken to St Vincent de Paul on Friday, 24th September. We will let you know how we go with this.
More exciting things have been organised by the Mini Vinnies group which will be coming up in Term 4!
Footy Colours Day
Footy colours day is this Friday 24th September. Students from Prep - Year 6 may come dressed in their favourite footy team gear (all codes accepted).
Kinder students can come on Thursday dressed in their footy gear.
Staff Car Park
A reminder that families are asked to not use the Staff Carpark as an entrance to the school in the interest of safety. Gates in the Staff Carpark will be locked moving forward. Families can access the school via the gate near the Noone St turning circle.
Winter - Summer Uniform Transition
Our winter to summer uniform transition began on Monday 13th September. Students can now wear their summer uniform from this date, if a student chooses to wear their summer uniform they must wear the full uniform including a school hat. All students must be transitioned to full summer uniform by the commencement of Term 4, Monday 11th October.
Taking Photos
Please be aware when taking photos of your own child that it is important to ensure, where possible, that faces of other students are not in the photo. This is especially important if you plan to put a photo of your child on social media. It is never appropriate to put a photo of another child on social media or upload it to the internet without the express permission of that child's parent/s and/or guardian/s.
WEST Award
Congratulations to Hailey Mitchell who received a WEST Award during today's morning assembly. We will continue to acknowledge those students who exhibit WEST (Welcoming, Encouraging; Sorry; Thankful) qualities and Mercy Values (Hospitality, Compassion, Mercy and Respect) by presenting awards at our Monday morning assemblies.
Student of the Week
Prep: Elsie Tueon for her excellent application towards our work on the 'Friends of Ten'.

Year 1: Alivia Dewrance-Milligan for great listening and application to all given tasks.

Year 2: Jacob Hingston for his thoughtful contributions to whole class discussions during our science inquiry.
Year 3: Jakk Burgess for working hard in literacy and for his happy, positive attitude.
Year 4: Hailey Mitchell for showing the Spirit of Jesus by always being a courteous and thoughtful member of our classroom.
Year 5: Salma Ragheb for her positive attitude and the consistent effort that she has put into all classroom activities.
Year 6: Josh Warren for being so calm and for showing amazing bravery after breaking his arm while on Year 6 camp.
House & Recycling Raffle Winners
Byrne House: Mushtaq Khan
Dooley House: Ethan Dick
Martyn House: Dana Al-Roubaie
Recycling: Avril Lewis & Suraya Khan
Photos of Sporting Events
If any parents or guardians have photos of students from school sporting teams and would like to see these included in the newsletter, please email them to stpatslat@catholic.tas.edu.au
Hockey - School Holiday Clinics
Latrobe Basketball Holiday Camps
Latrobe Basketball Association, McDonald's and Basketball Tasmania are pleased to announce another round of the BTAS Macca's On Your Team Basketball Camps are coming in October! The Holiday Camps offer junior basketballer's the opportunity to develop their skills while having fun, and not to mention all campers receive a Molten Basketball!
Camp Dates are:
2-Day Boys & Girls Camps




5 & 6 October in Hobart, Launceston & Devonport
1-Day Girls Only Camp




7 October in Hobart, Launceston & Ulverstone
The camp cost is $80 per person for the 2-day camps and $50 per person for the 1-day Girls Only Camp. Register online: www.basketballtasmania.com.au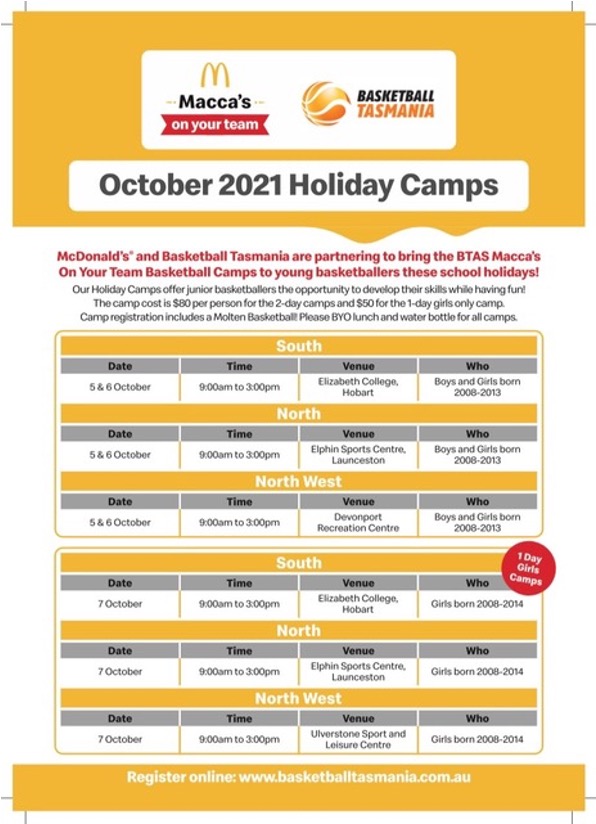 Latrobe Tennis Club
Port Sorell Tennis Coaching
Port Sorell Tennis Coaching has a tennis coaching group session on Thursday nights for children aged 5-14 years old. Tennis recommences the first week of Term 3. A group lesson lasts for 35 minutes with children of similar abilities grouped together.
If you are interested please contact Peter Georgiades on 0439637301 or 64287112.
Peter Georgiades
Junior Development Coach, Tennis Australia
Nut Allergy School
A reminder to parents that St Patrick's is a Nut Allergy School and that we ask that parents not pack nuts or nut products in their children's lunchboxes.
Inquiring Minds - Birth to 5 Years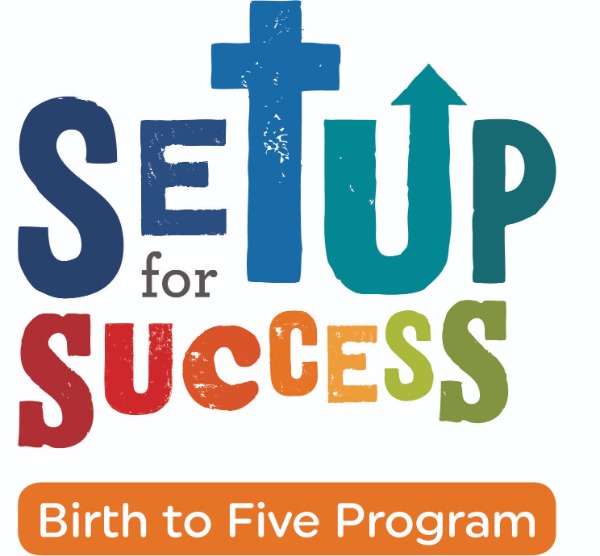 'Inquiring Minds' Birth to 5 program - a 'Set-Up for Success' Catholic Education Tasmania initiative.
Our 'Inquiring Minds' birth to 5 program operates each Friday during school term time from 9.00am to 10.30am. This program involves a considerable focus on communicating to parents the learning intentions of important activities that are associated with early years learning. Mrs Klug will be working to engage parents in early years learning experiences that will ensure children who are enrolling in Kindergarten, will be informed in regards to developing key social, emotional, physical and cognitive skills and understandings. Parents or an adult family member stays for the duration of these sessions; there is no cost, however if you would like to donate a gold coin it would be appreciated. Please feel welcome to participate.
Care and Concern
Please feel welcome to be included in our Care and Concern Volunteer List - thank you to the many school community members who are already on this list and are assisting others: Always please contact your child's teacher, the office staff or Mr Atkins if you feel we could offer support in any way to anyone in our school community in need.
Check in TAS App
It is now a requirement, as part of our COVID Policy, that any adult that visits the school must sign in using the 'Check in TAS App'.
Please view the below PDF for information regarding how to install and use the Check in TAS App.
We have QR codes at the office, school hall, entry doors and classroom doors that can be scanned using this app when you enter a school building.
If you do not have a smartphone or device that will let you install this app, you will need to visit the school office so that we can check you in.
Covid-19 School Safety Protocol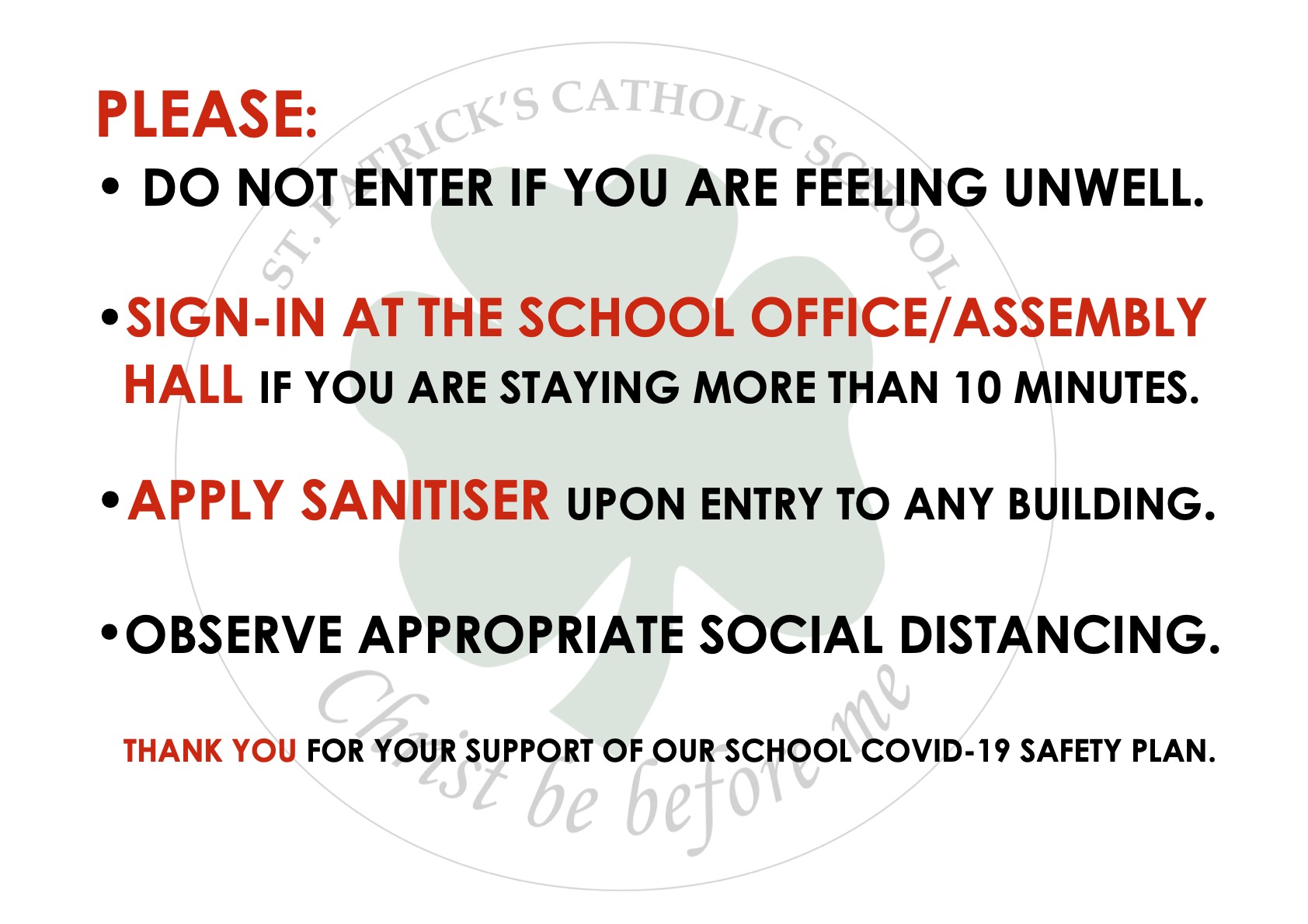 Adults to please hand sanitise upon entering any school building: the school provides hand sanitiser at school venue entry points or adults may use their own (and be observed to use a sanitiser).

Adults, where practicable, to maintain 1.5m physical distancing, observing seating arrangements as communicated by signage or instruction please: indoor event attendance limited to one person per 2 square metre per indoor space.
Adults to sign-in, either at the school office or on a list provided at the entry of the school building. The school is obligated to record contact details of visitors to school events held in school venues, with this information stored securely for a period of 21 days.
Appropriate COVID safe signage is communicated at school entry points. Key message to visitors - if feeling unwell, it is important not to be in attendance; the school will bar entry to people who have tested positive for COVID-19 or who are close contacts of a person who has tested positive for COVID-19.
Although daily cleaning of frequently touched internal surfaces is undertaken, we ask adult visitors to avoid touching surfaces unnecessarily.

THANK YOU