NEWSLETTER 11 - May 4th 2021
Acting Principal's Reflection
The biggest effects on students' learning occur when teachers become learners of their own teaching, and when students become their own teachers. (John Hattie, 2009)
At the start of this year at St Patrick's, staff engaged in a full day of professional learning aimed at introducing or reacquainting staff with the concepts and underpinnings of Visible Learning. The term Visible Learning was deliberately selected to indicate that schools must attempt to make clear the process of what makes great learning possible to students, teachers, parents, school leaders and the wider school community. Visible Learning is backed by the research of Prof John Hattie and his colleagues and comprises hundreds of meta-analyses based on data collected from over 80 million students. Needless to say, this amount of evidence and the findings produced from it are hard to argue with. Teachers then take the findings that show which teaching strategies, mind sets and pedagogies have the greatest impact on student learning and attempt to apply them to the context in our school.
Part of this process requires us to first understand where we are at as a school. To do this we must collect and analyse data from key areas relating to the core strands of Visible Learning. These are - The Visible Learner (Do students know what it takes to be a learner?); Know Thy Impact (What is the data telling us?); Visible Teaching (How can we ensure that students know exactly what is expected of them?); Effective Feedback (How can we ensure that students know where they are at and what their next steps are?). After collecting and analysing this data, we will be in a better position to put a plan in place to build capacity in all four of these above-mentioned areas.
When students can move from idea to ideas and then relate and elaborate on them we have learning - and when they can regulate or monitor this journey then they are teachers of their own learning. (John Hattie, 2009)
I won't go into detail about all four strands in this newsletter, but I would like to talk a little bit more about the Visible Learner strand. This strand aims to build capacity in helping our students to see themselves as learners. Being a learner is more than just being a student. A good student may sit quietly on the mat and appear to listen well. They may respond to questions and do all of their work on time and get good results. A learner (Visible Learner) on the other hand will do much more than this. They will:
Apply habits of thinking and doing

Seek, receive, act on, and give feedback

Understand and develop strategies and skills that assist their learning

Know where they are at in their learning, where they need to get to next, and what their next steps are to get there
Of course, an environment and culture needs to be created where these mindsets and skills can be developed and fostered, which is where the other strands come in. But, this is what we are aiming for, and hopefully over the next 2 - 3 years you will start to notice that your child or children are showing the traits of a Visible Learner rather than only being a "student".
Our Term 2 School and House Captains were announced at Monday's Assembly. I wish our leaders all the best in their roles and I know that they will represent St Patrick's with pride, visibly showing both our Mercy and WEST school values.
Kind regards
Kurt Atkins
Acting Principal
School Photo Day - Tuesday 18th May
School photo envelopes were sent home with all students last week. If you require a family photo envelope these can be collected from the office. Should any families require additional/separate envelopes these can also be collected from the office.
Students will be required to wear their full winter uniform on photo day.
NAPLAN 2021
Next week starting on Tuesday 11 May, students in Year 3 and Year 5 will begin NAPLAN Testing. These tests, aside from the Year 3 Writing Test, are completed online. Testing may go right through until Friday 21 May, however, we hope to have most of the tests completed by Friday 14 May. If your child is sick or unable to attend school for some of the days, we will attempt to catch them up on any tests they have missed. While these tests can provide us with some important data, it is important to remember that they do not show the full picture of student learning. Therefore, encourage your child to do their best, but not to stress about the tests or worry about what score they may get. If you wish to see what NAPLAN Online will look like for your child, please feel free to visit the NAPLAN Online public demonstration site by clicking on the link below.
Emergency Practice
Within the next few weeks we will hold an unannounced emergency practice with staff & students, to test our response to a potential scenario that staff identify a threat warranting the school go into lockdown (opposite to evacuation).
Like for fire evacuation drills, we recognised the worth to test this process.
We have plans in place to make this practice as least disruptive as able.
If you have queries you are welcome to call our Safety Officer Simon Natoli on 0400 105 476
Student Leaders
Congratulations to the following students who have been elected as our student leaders for Term 2.
School Captains - Gideon Barker and Emma Watson
Dooley House Captain - Georgie Tueon and Emily Phegan
Byrne House Captain - Adam van der Hulst and Talei Sesara
Martyn House Captain - Tyler Bakes and EJ Sullivan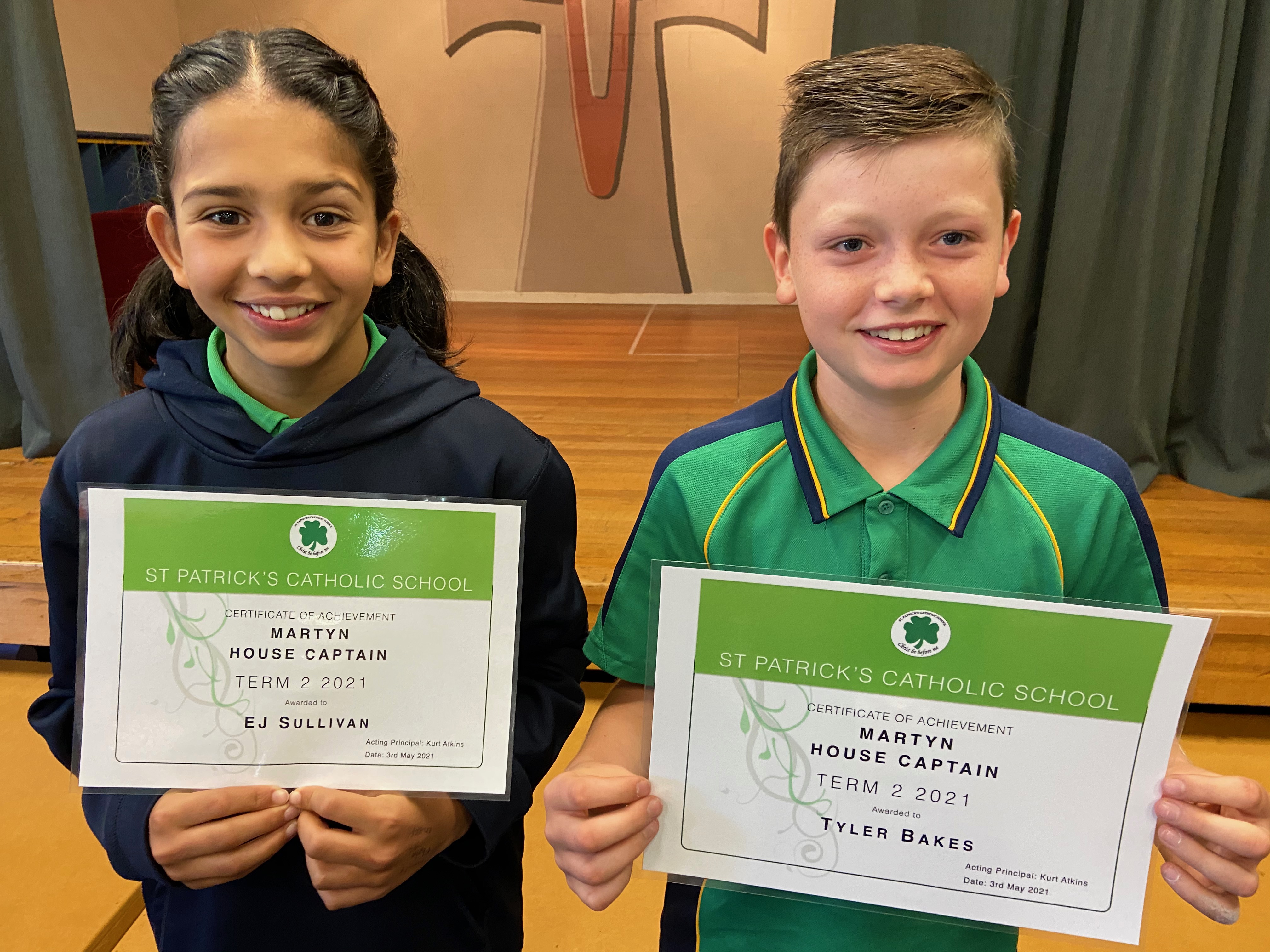 Staff News
Mrs Stoessiger was away Tuesday and Wednesday this week, we welcomed to our Kinder class Miss Eryn Connell.
Mother's Day Liturgy - Friday 7th May
Mother's Day Prayer
After School Pick Up
A reminder that students that are being picked up from school, where a student/s are picked up after 2:55, must wait at the school office. Students that are unsupervised are not permitted to sit outside or play on the playground while waiting to be picked up as there is no direct supervision in the playground at that time. We ask that children are collected from school promptly and if you are running late to pick up your child/ren that you please call the office to advise us. Where students are required to wait at the office on a regular basis (min 2-3 times per week) for more than 15 minutes per day, we now ask that parents arrange an alternative earlier pick up or that students are booked into after-school care. Thank you in advance for your support.
NEW webinar: eSafety's guide to parental controls
The eSafety's guide to parental controls webinar will show parents and carers how they can set up devices and apps to help keep young people safer online and will be run on a number of occasions:
Tuesday 4 May 12.30 to 1.30 pm
Wednesday 5 May 12.30 to 1.30 pm
Thursday 6 May 7.30 to 8.30 pm
Tuesday 8 June 12.30 to 1.30 pm
Wednesday 16 June 7.30 to 8.30 pm
Student of the Week
Prep: Max Phillips for trying his best in writing with a happy attitude. Well done, Max.

Year 1: Tom Anthony for his outstanding work with the Easter holiday class project. Top effort Tom!
Year 2: Evie Bracken for her application and attitude during writing tasks.

Year 3: Chloe Anthony for her work on developing efficient strategies for solving problems using addition and subtraction.
Year 4: Tanner Davis for his efficient problem solving strategies with fractions.
Year 5: Izzy Sherriff for living out our WEST values every day. Thank you for your daily greetings and smiles Izzy.
Year 6: Kale Garrad for his willingness to thoughtfully contribute to classroom discussions.
WEST Award
Congratulations to Violet Watkins (Year 3) who received a WEST Award during today's morning assembly. We will continue to acknowledge those students who exhibit WEST (Welcoming, Encouraging; Sorry; Thankful) qualities and Mercy Values (Hospitality, Compassion, Mercy and Respect) by presenting awards at our Monday morning assemblies.
House Raffle Winners
Byrne House: Sophie M
Dooley House: Seth F
Martyn House: Emma W
Recycling:
P&F News - Mother's Day Stall
The Mothers day stall will be held this Thursday from 9am-11.20am. All students will have the opportunity during class time to make a purchase if they wish. We are limiting purchases to 1 item per student to begin with so everyone has a fair opportunity to choose. If students want to make a second purchase they are welcome to come back at recess time to purchase another item/s. All items are priced between $2-$6 in price. There will be a lovely range of items available, thermos cups, smoothie shakers, crossword books, photo frames, socks, drink bottles, necklaces and keyrings to name a few.
Prep News
Prep students have been working hard at learning to read the Oxford words. Well done Kashaf, Cohen, Grace and Mark for your achievements.
Book Club - Issue 3
BOOK CLUB ISSUE 3 is out now! Orders are to be in by Friday 14th May 2021. May is the month of celebrating reading with the Scholastic National Reading Challenge, it's easy to do, just go to scholastic.com.au/nfrm, enter your details, and then read every day for the month of May! Encourage our children to love reading!
Book Fair - Tuesday 11th May
Our first Book Fair for this year will be held on Tuesday 11th May, we will run this fair for one day only. Book sales will be available from 8.30am - 5.00pm.
Weekly Newsletter - New Format
As you may be aware, we have switched to a new newsletter format. This new format allows for a much greater digital experience when viewing the newsletter by offering larger photo galleries, videos, embedded PDFs, direct links to external sources and optimisation when viewing on a smartphone, tablet, laptop or desktop. Unfortunately, the new format does not look quite as good in hard copy form. Therefore, we would like to move away from printing hard copy newsletters to send home (saving on paper is also an environmental goal). However, if you still wish to receive a hard copy of the newsletter please fill out the below form.
Inquiring Minds - Birth to 5 Years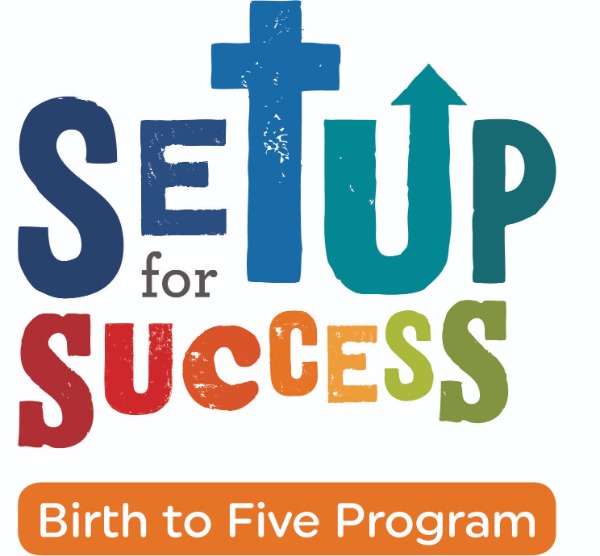 'Inquiring Minds' Birth to 5 program - a 'Set-Up for Success' Catholic Education Tasmania initiative.
Our 'Inquiring Minds' birth to 5 program operates each Friday during school term time from 9.00am to 10.30am. This program involves a considerable focus on communicating to parents the learning intentions of important activities that are associated with early years learning. Mrs Klug will be working to engage parents in early years learning experiences that will ensure children who are enrolling in kindergarten, will be informed in regards to developing key social, emotional, physical and cognitive skills and understandings. Parents or an adult family member stays for the duration of these sessions; there is no obligation in regards to any cost. Please feel welcome to participate.
Check in TAS App
It is now a requirement, as part of our COVID Policy, that any adult that visits the school for longer than 10 minutes must sign in using the 'Check in TAS App'.
Please view the below PDF for information regarding how to install and use the Check in TAS App.
We have QR codes at the office and school hall that can be scanned using this app when you are visiting the school for longer than 10 minutes.
If you do not have a smartphone or device that will let you install this app, you will need to visit the school office so that we can check you in.
Latrobe Aussie Hoops
Starting – Monday 17th May
3:30 for 5yrs to 7yrs
4:15 for 8yrs to 10yrs
Running for 6 weeks (excl. Queens B'day Public Holiday)
5yrs to 7yrs Aussie Hoops Link
Term 2 Aussie Hoops (5yrs to 7yrs) - GameDay Registration (sportstg.com)
8yrs to 10yrs Aussie Hoops Link
Term 2 Aussie Hoops (8yrs to 10yrs) - GameDay Registration (sportstg.com)
Any issues/queries please contact Kristie on 0418 385 597 or